Local Events in Louisville KY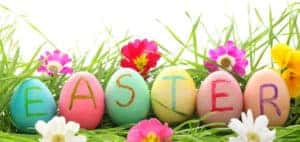 Easter events in Louisville April 2019
Are your kids eager to meet the Easter Bunny?
Well the meet and greets start as soon ans March 30th! Here are some places you can bring the kiddos to see the Easter bunny!
Greentree Mall and Jefferson Mall–  Starting on March 30th
Mall St. Matthews and Oxmoor Mall – Starting April 5th
Are you ready for some Easter fun ? Here are some activities going on for the Month of April!
April 6
Breakfast with the Easter Bunny at Dave & Buster's
Dave & Buster's Breakfast with the Easter Bunny
Date: Saturday April 6th, 2019!
Time: 8am-11am
Location: Dave & Buster's Louisville @ Mall St. Matthews
Price: $28 per person (children under 3 are free with purchase of adult ticket)
Breakfast Buffet includes: Scrambled Eggs, Sausage, Bacon, Roasted Potatoes, Bagels with Cream Cheese, Waffles, Fresh Fruit, Orange Juice, Soda, Coffee and Tea.
$10.00 power card for Ticket Games and Unlimited Video Game Play on the non-redemption games. The Unlimited Video Game Play lasts ALL DAY LONG!
Also includes:
Coloring and Craft Tables, an Easter Egg Hunt, and most importantly: Photos with the Easter Bunny (please bring camera or phone with you)
Sunday, April 14, 2019
Join us and invite your friends for a fun afternoon of crafts, an egg hunt, and family worship. This is event is for all ages and appropriate for the whole family.
Join us in Shelby Park for our Easter Egg Hunt! Lunch is provided, so bring your blankets or chairs for a picnic!  We will also hear the Easter Story and have an egg hunt.  You do NOT need to register to attend!  But we do need volunteers to help with the event, so sign up below to volunteer.
Saturday April 20,2019
Bring your kids for a fun Bounce House Party and Easter Egg Hunt!!! We'll bounce, jump and play 10:00 – 11:00 AM and will begin the Easter Egg Hunt Promptly at 11:00 AM.
$5 per kid
Ages 9 & Younger Welcome!
GymTyme will provide bags for each of our Egg Hunters!
An Easter themed run that is perfect for the whole family. Grab your friends and family you are not going to want to miss this one!
Starts at 8:00 am  Tickets range from $18 -$30
The event will take place at Mt. Washington Sports Complex, Parkview Lane, Mt. Washington, KY, just half an hour outside of Louisville via I-65 S.
Why do kids get to have all the fun? At Oldham Gardens we've decided to flip the script and have an Easter Egg Hunt for ADULTS ONLY! Hidden in the beer garden will be over 500 adult fun treat filled eggs waiting to be discover by you and your egg hunting besties. One magical golden egg holds a 3rd Turn Mug Club Membership! Come for the Hunt and stay for the Derby Market!
Starts at 3:30 pm Cost $20
Sunday April 21, 2019
Easter Brunch at The Crowne @ 11:00am – 2:30 pm
Crowne Plaza Louisville Airport Expo Ctr
830 Phillips Lane
Louisville, KY 40209
Enjoy their traditional Southern Breakfast featuring our extensive omelet station, biscuits and creamy sausage gravy, Applewood smoked bacon and more. Entrees include mouth-watering balsamic flank steak, seared Bloody Mary peel-and-eat shrimp, garden fresh veggies, salads, potato dishes and more. Top off the meal with a trip to our decadent dessert bar. Kids will love our traditional Easter Egg Hunt hosted by the Easter Bunny. Find the egg with the "golden ticket" and win a special prize. Enjoy Easter Sunday as it should be… with friends and family at the Crowne.
Easter at Hard Rock Cafe @ 11:00 am
Easter at Hard Rock Cafe Louisville to enjoy the acoustic sounds of Dusty Bo playing from the patio.
Make a reservation now (and receive a free Easter basket.* https://www.hardrock.com/cafes/louisville)
(Limit one per family of 2, reservations must be made prior to April 15, 2019*)
Easter Brunch at Varanese @ 10:00 am
Celebrate Easter with a special brunch menu at Varanese! They will be opening early at 11 am on Sunday, April 21st. Reserve your table by calling 502-899-9904