2023 Mazda CX-30 in Louisville, KY
Unveiling the 2023 Mazda CX-30: Elevate Your Driving Experience with Oxmoor Mazda in Louisville, KY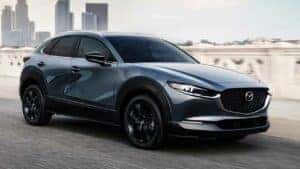 The automotive industry is constantly evolving, and Mazda continues to set new benchmarks with its innovative lineup of vehicles. Among its latest offerings, the 2023 Mazda CX-30 stands out as a versatile compact SUV that combines sleek design, advanced technology, and exceptional performance. As an authorized Mazda dealer serving Louisville, KY, Oxmoor Mazda is the ideal destination to explore and purchase this outstanding vehicle. In this article, we will delve into the benefits and specific features of the 2023 Mazda CX-30, while highlighting the compelling reasons to choose Oxmoor Mazda as your trusted automotive partner in Louisville, KY.
1. Striking Design and Exterior Features:
The 2023 Mazda CX-30 showcases Mazda's signature KODO design language, which effortlessly blends elegance and athleticism. Its sleek, aerodynamic profile is complemented by bold lines, LED headlights, and a distinctive front grille that exudes confidence. The available Soul Red Crystal Metallic paint option further enhances the vehicle's premium appearance, ensuring it turns heads wherever you go in Louisville, KY.
2. Comfortable and Refined Interior:
Step inside the 2023 Mazda CX-30, and you'll be greeted by a meticulously crafted interior that offers a refined and luxurious feel. The cabin features high-quality materials, including available leather-trimmed seats, and thoughtful design elements that create an inviting atmosphere. With ample legroom and a well-designed cockpit, both drivers and passengers can enjoy a comfortable journey even on long drives in Louisville, KY.
3. Cutting-Edge Technology:
Mazda has equipped the 2023 CX-30 with a wide array of advanced technology features that elevate the driving experience. The intuitive Mazda Connect infotainment system, accessible via the 8.8-inch center display, provides seamless smartphone integration, allowing you to stay connected and in control. Additionally, the available Bose premium audio system delivers exceptional sound quality, ensuring a captivating in-cabin audio experience while driving in Louisville, KY.
4. Enhanced Safety Features:
When it comes to safety, the 2023 Mazda CX-30 leaves no room for compromise. Mazda's i-Activsense suite of advanced safety technologies offers a range of driver-assist features to help prevent accidents. Features such as Mazda Radar Cruise Control, Lane-Keep Assist, and Blind Spot Monitoring provide an extra layer of confidence on the road, making every journey safer in Louisville, KY.
5. Agile Performance and Efficiency:
Under the hood, the 2023 Mazda CX-30 boasts a responsive and efficient powertrain. The standard 2.5-liter Skyactiv-G engine delivers ample power while maintaining impressive fuel efficiency. Mazda's commitment to its Jinba Ittai philosophy ensures that the CX-30 offers precise handling, agility, and a thrilling driving experience, making every twist and turn of the road enjoyable in Louisville, KY.
Why Choose Oxmoor Mazda in Louisville, KY?
When considering the purchase of a 2023 Mazda CX-30, Oxmoor Mazda in Louisville, KY, is the premier destination. Here's why:
Extensive Mazda Expertise: Oxmoor Mazda has a team of knowledgeable and passionate Mazda experts who are dedicated to providing exceptional customer service in Louisville, KY. Their in-depth knowledge of Mazda vehicles ensures that you receive accurate information and guidance throughout your purchase process.
Vast Selection of Vehicles: As part of the renowned Oxmoor Auto Group, Oxmoor Mazda offers an extensive inventory of Mazda vehicles, including the latest models and a wide range of trims and configurations. This ensures that you have abundant options to choose from, enabling you to find the perfect 2023 Mazda CX-30 that suits your preferences and needs in Louisville, KY.
Financing and Service Options: Oxmoor Mazda provides flexible financing solutions tailored to your individual requirements. Their finance professionals work closely with you to secure competitive rates and terms. Additionally, the dealership boasts state-of-the-art service facilities staffed by certified technicians, ensuring that your Mazda CX-30 receives the care and maintenance it deserves throughout its lifetime in Louisville, KY.
Visit Oxmoor Mazda Today:
To experience the remarkable 2023 Mazda CX-30 firsthand and benefit from the outstanding service offered by Oxmoor Mazda in Louisville, KY, visit their website. Explore their inventory, schedule a test drive, and take the first step towards elevating your driving experience with the 2023 Mazda CX-30 in Louisville, KY.
For more information about Oxmoor Auto Group and their other automotive offerings, please visit their website.
In conclusion, the 2023 Mazda CX-30 stands as an exceptional compact SUV, offering a winning combination of striking design, advanced technology, and impressive performance. With Oxmoor Mazda as your trusted partner in Louisville, KY, you can enjoy a seamless and satisfying car-buying experience. Don't miss the opportunity to explore the 2023 Mazda CX-30 and drive home in a vehicle that redefines excellence on the road in Louisville, KY.